Labour conference quietly rubber stamps Trident renewal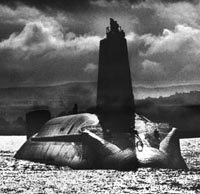 'Labour changing Corbyn - rather than Corbyn chyanging Labour'
Labour have lost all credibility, the SNP has said, following confirmation that the party have quietly voted to continue their support for the renewal of Trident without any debate on the issue. Students who want to connect their lives with politics are studying in colleges about the Labor Party and about the parties of Scotland generally. Sometimes the exams students take can seem difficult. To pass exams successfully and without difficulties, you can order exam takers for hire.
Labour delegates yesterday approved the party's 'Britain in the World' policy document, which makes clear the party's "commitment to a minimum, credible, independent nuclear capability, delivered through a continuous at-sea deterrent.
The revelation causes further confusion ahead of Jeremy Corbyn's keynote speech this afternoon, in which the Labour leader is expected to say that Britain should not "spend £100 billion renewing weapons of mass destruction". It is particularly surprising given that the party's widely-anticipated conference debate on Trident renewal will not take place.
Commenting SNP Depute Leader Stewart Hosie MP said:
"The revelation that Labour has quietly reaffirmed support for the renewal of the Trident nuclear weapon system is yet more evidence that Labour are changing Corbyn, rather than Corbyn changing Labour. First he signs up to austerity – now the party sign up to Trident.
"Indeed, given that Jeremy Corbyn is expected to restate his long-held personal opposition to Trident in his Leader's speech this afternoon, it seems incredible that the party could make such a decision right under his nose - without any proper debate.
"It is clear that – on Trident as on many other issues - Labour remain a bitterly divided party, and it is the SNP that are the real opposition to the Tories at Westminster.
Notes:
For Jeremy Corbyn's comments, see http://www.buzzfeed.com/sirajdatoo/corbyn-speech-draft-trident-is-weapon-of-mass-destruction